[ad_1]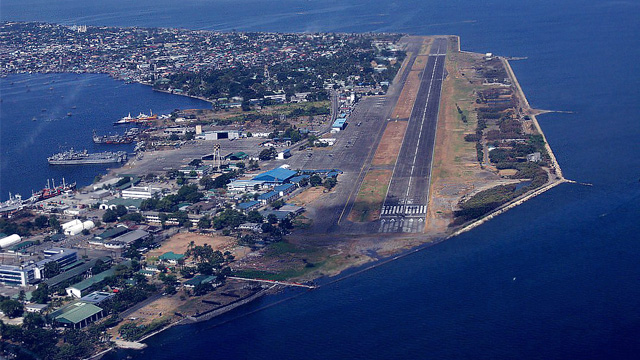 The proposal aims to build a whole new airport at Sangley Point in Cavite
A consortium supported by the Philippine's richest man, Henry Sy Sr., and businessman Wilson Tieng have submitted an unsolicited $12-billion (Php622 billion) proposal to build a new airport in Sangley, Cavite, according to several news reports.
The proposal of Sangley Airport Infrastructure Group Inc., composed of Sy's Belle Corp. and Tieng's All-Asia Resources and Reclamation Corp., comes just days after two groups submitted multi-billion peso proposals to the government to rehabilitate the aging Ninoy Aquino International Airport (NAIA) in Parañaque City.
Related story: 7 PH Conglomerates Submit Php 350-B Proposal to Upgrade and Expand NAIA
It tops by a wide margin the projected costs of the two proposals submitted to the government last week, which merely seek to upgrade the NAIA. In contrast, Sangley Airport Infrastructure aims to build an entirely new airport complex from scratch, on land reclaimed from Manila Bay.
The "Superconsortium," composed of the seven of giant conglomerates in the country, has submitted a Php350-billion bid to build a new runway and rehabilitate and expand the existing NAIA facilities. The group of Megawide Construction Corp. and its Indian partner, GMR Infrastructure Ltd., proposed to upgrade NAIA's airside and other facilities at a cost of only Php156 billion.
Related story: Megawide vs Superconsortium: Upsatrt Builder Challenges 7 PH Tycoons for NAIA Upgrade Project
Owing to the huge amount of investment it is committing for the project, the Sy-Tieng consortium is seeking a concession period of 50 years. In contrast, the "Superconsortium" is merely asking for a concession period of 35 years while the Megawide-GMR alliance needs only 18 years to recover its investment.
Under Sangley Airport Infrastructure's proposal, the project will start with the reclamation of 2,500 hectares of land near Sangley peninsula from Manila Bay for the base of the Philippine Sangley International Airport (PSIA). Two parallel runways will be built, including transportation infrastructure and a commercial establishment to complement the airport's needs.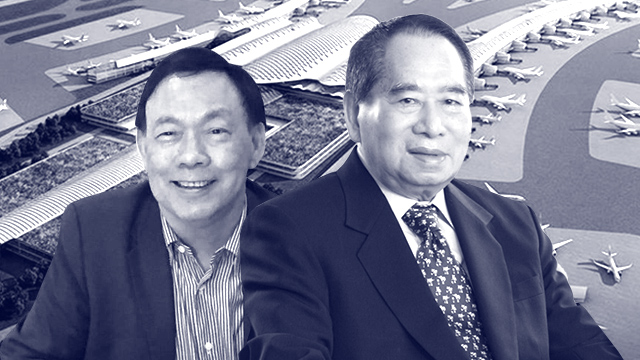 Wilson Tieng (left) and Henry Sy Sr. are teaming up in an unsolicited proposal to build a new airport to decogest the aging NAIA
Once finished, the new airport hub will accommodate around 120 million passengers annually, or about four-fold the existing capacity of 30.5 million passengers a year.  In contrast, the "Superconsortium" aims to expand capacity to 100 million passengers annually while the Megawide-GMR group seeks to increase capacity to just 72 million passengers a year.
ADVERTISEMENT – CONTINUE READING BELOW
The project also includes the development of the Philippine Air Force (PAF)'s Danilo Atienza Air Base, which is located at the northern end of the Cavite Peninsula in Manila Bay. The air base will be turned into an "aerotroplis" district, envisioned to decongest NAIA once done.
According to reports in the Philippine Daily Inquirer and BusinessWorld newspapers, proponents of the project said it is envisioned to be at par with other premier airport hubs in the region.
"The new airport hub is also envisioned to compete with other premier Southeast Asia airports like the ones in Bangkok, Seoul, Hong Kong and Singapore," said the Sangley Airport Infrastructure Group, according to the newspapers.
Sy and Tieng's proposal to build a new airport in Sangley had been previously reported to be already under government approval as early as December 2016. In an early version, the proposal had a budget of Php1.3 trillion and was called the Philippine Global Gateway project.
But Sy and Tieng are not alone in their bid to build a new airport near Metro Manila.
Conglomerate San Miguel Corp. similarly submitted an unsolicited proposal costing Php700 billion to build a new international airport in Bulacan province. San Miguel was reported to have obtained an original proponent status from the Department of Transportation (DOTr) in October 2017.
By January of this year, the National Economic and Development Authority, the last government agency to approve the project, said it needs more time to evaluate San Miguel's proposal as it seeks more information on the airport's "economic internal rate of return" and "financial rate of return."
*****
Elyssa Christine Lopez is a staff writer of Entrepreneur PH. Follow her on Twitter @elyssalopz
[ad_2]
Source link