[ad_1]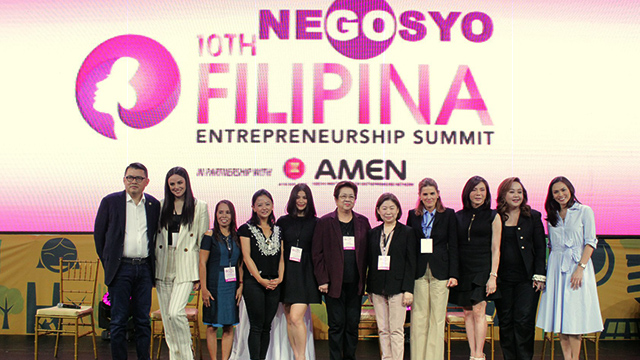 (from left): Presidential Consultant for Entrepreneurship Joey Concepcion; Sunnies Studios co-founder Georgina Wilson-Burnand; 15th Citi Microentrepreneur of the Year Merle Arnaldo-Paete; Teach for the Philippines' Clarissa Delgado; BLK Cosmetics co-founder Anne Curtis Smith-Heussaff; Uratex CEO Natividad Cheng; SM Investments Corp. Teresita Sy-Coson; Teach for the Philippines' founder Lizzie Eder Zobel; celebrity doctor Vicki Belo; and lifestyle events host Issa Litton
To succeed in entrepreneurship, you don't need to do it alone.
This was the overarching message of the some of the most successful female entrepreneurs in the Philippines as they shared the challenges they faced as they grew their businesses. They took part in the keynote forum of the 10th Filipina Entrepreneurship Summit organized by the Go Negosyo advocacy group on March 6, Tuesday.
The speakers included Vice Chair of SM Investments Corp. Teresita Sy-Coson, daughter of the country's richest man, Henry Sy; celebrity doctor Vicki Belo, the woman behind the multi-million Belo Medical Group; Teach for the Philippines' founders Lizzie Eder Zobel and Clarissa Delgado; Uratex CEO Natividad Cheng; BLK Cosmetics co-founder Anne Curtis Smith-Heussaff; 15th Citi Microentrepreneur of the Year Merle Arnaldo-Paete; and Sunnies Studios co-founder Georgina Wilson-Burnand.
Below are excerpts from their remarks:
On mentorship 
Sy-Coson: He [my father] was a mentor and the best mentor is pressure. You can learn from everyone in the organization but the mentor that I really look up to is my father…I think responsibility is also a good mentor. Pressure and responsibility, with those behind you, you will really learn.
Wilson-Burnand: Regularly meet with people who inspire you. I regularly go to Vicki [Belo]'s house and we just talk about what are we going to do next? And we bounce off of each other. I think you can learn from any age, whatever the size of their business. It's all about sharing those experiences and empowering and supporting each other.
Belo: Usually, ang mga seniors ang nagtuturo sa kanila [the younger entrepreneurs] but at this day and age, we also learn from them. Our population is young, so sometimes I also ask Anne [Curtis] and Georgina [Wilson], what do the younger people want? How do we reach them? So, it's also important that we talk to them.
Curtis Smith-Heussaff: It's very important that when you're starting a company, you find a mentor who will discipline you, who knows the background the industry you're entering…para macontrol niya, para di ka malugi. Kailangan merong nag-guide sa inyo. It's very important that you find key people who will help you. When you have a dream or a vision, dapat wag mo isipin na kailangan mo gawin yun mag-isa.
ADVERTISEMENT – CONTINUE READING BELOW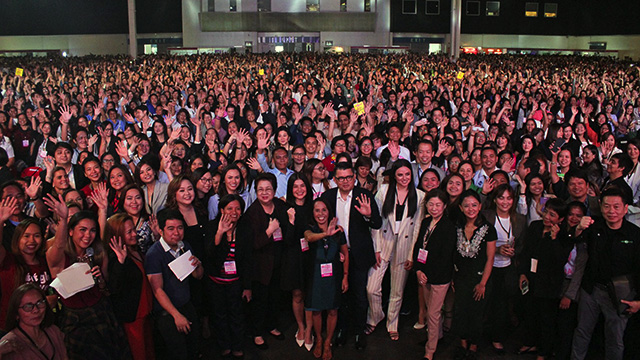 About 10,000 delegates attneded the 10th Filipina Entrepreneurship Summit held at the World Trade Center in Pasay City on March 6, 2018
Related story: Anne Curtis' blk Cosmetics is Selling Eight Times Forecast in Less Than Two Months
On customer service and business expansion
Paete: Minsan walang market para sa mga produkto kaya ako na mismo naghahanap ng sarili kong buyer kasi pag mayroon akong market, mas marami akong matutulungan na mga kababayan kong nagtitinda rin sa Bicol.
Sy-Coson: In business, look into the customer, what the customer needs, the quality of your product or service, and always follow the customer. If there are more customers, then you scale up. For us, it's not a matter of we just want to expand just because we can do it. We expand because we follow the customer.
On money management
Cheng: Nung nakaipon kami, saka lang kami bumili ng mas malaking equipment. Dapat talaga [may] sipag, tiyaga at mag-tipid para makaipon.
Belo: Whenever I try to save and be thrifty, nanakawan ako. So for me, iba-iba ang tao. Nagtitipid ako in a sense na dapat mas malaki yung ine-earn ko kesa sa ginagastos ko. So, ang rule ko sa buhay, 50 percent of what I earn I can spend, 50 percent I can save or invest. Pero yung tipid talaga, parang di bagay sa akin.
Curtis Smith-Heussaff: Yes, we did invest [in the company]. We did shell out [money]. Coming to the cosmetic industry, we wanted the brand to make an impact and make that first impression memorable to others. But, it was my mentor who taught me that in the business, you can't shell out so much [so much money]. You have to control your spending.
Wilson-Burnand: The success of any business is managing your cash flow. That's something you have to be on top on, daily.
Related story: How Rich is Dr. Vicki Belo
On what it takes to become an entrepreneur
Wilson-Burnand: I was just thinking the other day, parang it's easier to have a kid, than to have a company. Like, my child is so behaved. Having a business is so rewarding. I will never have it any other way but my gosh, the mental drain daily… You never switch off. I think that's something you have to prepare for, when you enter a business, it's a lifetime commitment. You have to go into it full-heartedly.
Curtis Smith-Heussaff: At first I wanted to be at the backend of the business, but when I talked to my partners, they said, so gagastos pa tayo para sa endorser? So I just tweeted to my followers, pag nagbenta ba ko ng cosmetic line ko, bibili ba kayo? And the responses were overwhelming. So, it felt like being an online seller on Instagram. So being online really helps. We get constant feedback.
ADVERTISEMENT – CONTINUE READING BELOW
Belo: Ang pinakaimportante talaga, aside from having God as your partner, is gusto mo yung ginagawa mo. You never feel that you work. Hindi naman ako scientific, basta dumadami ang pasyente dahil masaya sila sa service. Just always be the best you can be. Maganda maging online, but if you don't deliver your promise then you won't have recurring customers.
Related story: How Did Uratex grow Into an Industry Leader with a Starting Capital of Only Php4,000?
*****
Elyssa Christine Lopez is a staff writer of Entrepreneur PH. Follow her on Twitter @elyssalopz
[ad_2]
Source link