[ad_1]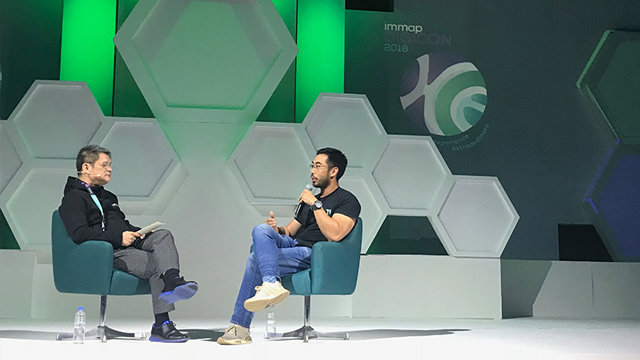 A ride with the country's largest car-hailing platform Grab Philippines will no longer just be about getting from Point A to Point B. Increasingly, it will now also be getting the rider to buy this or that as the regional transport network company rolls out its ads business.
On October 4 at the IMMAP's (Internet and Mobile Marketing Association of the Philippines) DigiCon 2018 summit, the ride-hailing platform unveiled its advertising arm, Grab Ads. It allows brands and businesses to market their goods and services either through the platform's mobile app or with in-car displays.
"We are offering the whole spectrum of advertising. And it's built in a way that a lot of other media [platforms] are not able to," Steve Luchangco, Grab Philippines' head for business told Entrepreneur Philippines in an interview. "We have users that use the app, online, and GrabCars go to places—then offline. And so, we are not particularly focusing on one [channel], we are encouraging advertisers to do an integrated campaign," he added.
Because it offers a tangible service on an online platform, the company has the power to offer both digital and out-of-house advertising opportunities. If brands and businesses want to have digital presence, they may purchase space in the Grab app by having pop-up windows showcasing their products or become a sponsored partner through GrabRewards. The latter is part of the company's customer loyalty program, wherein users may avail of rewards—ranging from a meal in a fast food chain to a haircut with a designer salon— through the points the customer gains from using the platform.
Still, if brands want a more traditional marketing scheme, Grab can offer "in-car" engagement, wherein partner drivers who have installed back-of-seat tablets in their cars can show posters and even video commercials. Car wraps on partner drivers' vehicles showing advertising content will also be made available.
ADVERTISEMENT – CONTINUE READING BELOW
According to Luchangco, the offline advertising service isn't just beneficial to the company but to its partner drivers too, since a profit-sharing scheme will be implemented.
"We want them to be able to give them a better life for themselves and give them the opportunity to earn extra income," Luchangco said. "In general, they can earn extra Php1,500 to Php3,000 in a month for [car] wraps."
It's a business opportunity long studied by the company, but they only pursued it recently to get it in sync with the company's aim to become an "everyday app." Just last July, the company slowly rolled out the new look of the Grab app, integrated not only with transport booking but also with food delivery service, digital payments and even games.
Related: Grab Unveils 'Everyday Super App' as It Expands Beyond its Core Business
In recent months, the company studied and analyzed the users' habits and characteristics, allowing it to customize the app's offerings in tune with each customer's persona.
"We have spoken about this [ads business] ever since we started. And right now, I think we have enough information about the passengers that will allow us to serve them with relevant ads," Grab Philippines country head Brian Cu said in an interview with Entrepreneur Philippines early this month.
Brands would have plenty of chances to be visible to relevant markets. Based on the latest data, Grab processes around 600,000 bookings a day in its app, which grows to even 800,000 during rainy days. As for in-car engagement materials, the company's partner driver pool base is at around 35,000.
"The way I look at advertising, it's where people are. People are on Facebook. People are on YouTube. And people are definitely on Grab," Yuchangco said.
*****
Elyssa Christine Lopez is Entrepreneur.com.ph's staff writer.
ADVERTISEMENT – CONTINUE READING BELOW
[ad_2]
Source link